Replica Rolex Submariner Guide - Replica vs Original
Diving watches are a big hit in the watch market, and the Rolex Submariner collection is one of the most popular in the watch industry.The Rolex Submariner has been launched for more than 60 years. It is the quintessential sytle of the Rolex sports watch. Although the appearance design and function of replica Rolex Submariner have continued to undergo some improvments, if has always maintained the "Original intention" - designed for diving.
Learn About Rolex Submariner Here
904L Stainless Steel - A highly corrosion-resistant alloy steel exclusively used by Rolex. The 904L Stainless Steel is mainly used in the high-tech, aerospace and chemical industries, and is highly polish-able and corrosion-resistant.
Classic Oyster Case - Rolex Submariner's Oyster case is water resistant up to 300 meters and provides the best protection against dust, pressure and shock!
Cerachrom Bezel - Developed and patented by Rolex in 2005, is made of an extremely hard ceramic material, which makes the bezel with engraving unaffected by scratches and exhibits and extraordinary luster.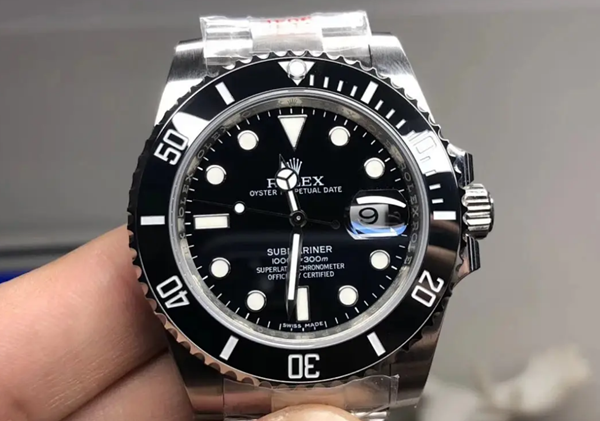 Date Magnifying Window - An additional sapphire crystal is fixed to the crystal above the date window, magnifies the date 2.5 times for easy-reading.
Chromaligh Blue Luminous - A must-have feature in a diving watch is underwater visibility. Different from the conventional luminous materials which has green llight, the Chromalight luminous material developed by Rolex Submariner can emit blue light and continuously emit light for up to 8 hours. What worth noticing is, the more light the watch absorbed, the more timie it will last.
Glide-lock Extension System - The Rolex Submariner Oyster bracelet is equipped with extension system, which allows fine-tuning of the bracelet without the aid of any tools.
Trip-lock Triple Lock Crown - A patented triple water-resistance system, specially designed for a diving watch, the Rolex Submariner is resistant to water pressure up to 300 meters.
However, the famous Rolex Submariner diving watch for 2020 has a new generation, and most notably the Rolex Submariner, a watch that thas received few major updates.
Brand New Rolex Submariner
The Improvement of New Products best Submariner swiss clone:
1/ Size - The size of the Rolex Submariner case is 40mm in the previous version, as many old fans know. Now the size has been expanded to 41mm, in order to coordinate with the new version of the wider bracelet.
2/ Movement - Featuring new movement, including the cal.3230 movement for the Rolex Submariner Time and the cal.3235 movement for the Rolex Submariner Date. The power reservation is significantly increase from 48 hours to 70 hours, which is in line with the ever-increasing trend in watchmaking for ever evolving power.
3/ Bracelet - Equipped with Rolex's Oyster-lock folding safety clasp and the Rolex Glide-lock extension system to adjust the lenght of the bracelet to 20mm.
Still in Stainless steel or gold&steel, with a black dial and black Cerachrom bezel, other aspects of the Rolex Submariner remain unchanged.
New Product Recommended
Among the brand new Rolex Submariner collection, there are currently seven new fake Rolex Submariner Date model, but the standout (and probably the most popular) are the all-stainless steel version with black dials and also the most classic model 126610LN-0001 and 124060-0001, and the green bezel model 126610LN-0002, blut dial model 126613LB-00002 and the blue bezel model 126619LB-0003. Here we introduce these models in detail, and the quality we can provide to you.
Rolex Submariner Date 126610LN-0001
The Brand New Rolex Submariner Date 126610LN-0001 (Old model Rolex Submariner 116610 replica 40mm), 41mm Diameter, with brand-developed oyster 904L stainless steel (this alloy is widely used in high-tech, aviation and chemical etc. high feature). Black Cerachrom One-way rotating outer ring, the 60-minute scale on the ceramic bezel allows the divers to accurately calculate the dive and buck time. Cerachrom Bezel is made of special ceramics, hard, corrosion resistant, and scratching. In addition, extraordinary luminous hour markers with Chromalight innovation technology, can be clearly read in the dark environment. Solid stainless steel bracelet, sturdy and comfortable, and is equipped with an protecting from accidentally open-opening clasp. The date window with convex lens magnifying glass function, the name of the small window convex lens (Cyclops lens "is derived from the alone giant of Greek mythology. The calendar shows 2.5 times, which makes people reading the time at a glance.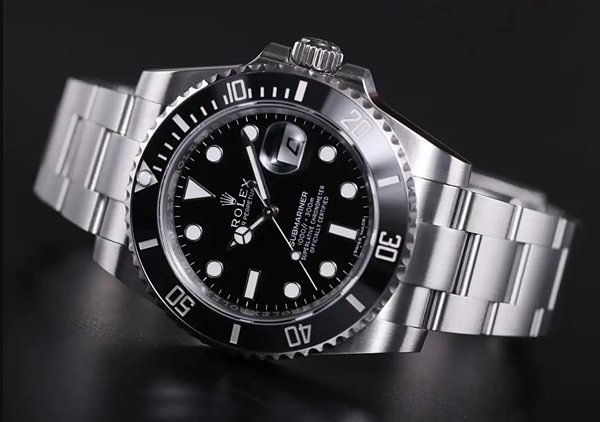 Rolex Submariner Date 126610-0001
Our Black Submariner uses high quality 904L steel, very durable. After wear, it is shining, even in extreme environments, its specific state is still not reduced. High quality ceramic bezel. Our luminous material is also a bright blue luminous material that is consistent with genuine, so that the diver easily reads the time. The same design convex lens calendar is magnified.
Rolex Submariner Date 126613LB-0002
Rolex Submariner Date 126613LB-0002 is made of gold and steel. Gold, bright and noble. Steel, rugged. Gold&Steel is a sign feature of Rolex. Our super versions use 18K real gold cover 904L steel surface, very beautiful!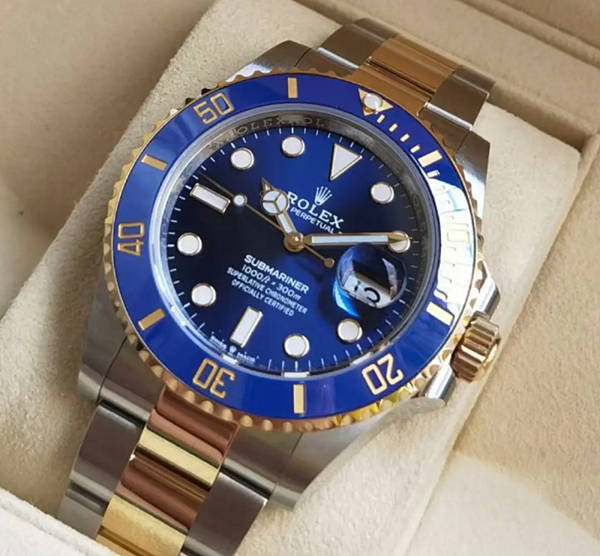 Rolex Submariner Date 126613LB-0002
Ceraachrom Bezel is made of hard, corrosion, and scratch-resistant special ceramics. Even in the dark environment, the dot hour marker with luminous material is still securely read. Royal blue dial, clear reading in water. Chromalight night light display. The hour marker uses a simple shape, such as a triangle, circular, rectangular, along with a wide clockwise and division.
Our Rolex Submariner Date replica 126613LB-0002 Blue Dial model with a glide-lock system that can be easily extended without using any tool. Even if wearing diving clothes, you can still experience a stable and comfortable watch.
Rolex Submariner Date 126619LB-0003
This is the only Submariner model manufactured with 18ct white gold. Rolex has exclusive casting, casting high-quality 18ct gold alloys. Through mixing different parts of silver, copper, platinum or palladium, different types of 18ct gold: gold, pink or white gold. Our super version Rolex Submariner Date 126619LB-0003 use 904L steel, quality superior. If you need a true model with real Platinum covering, we can make it!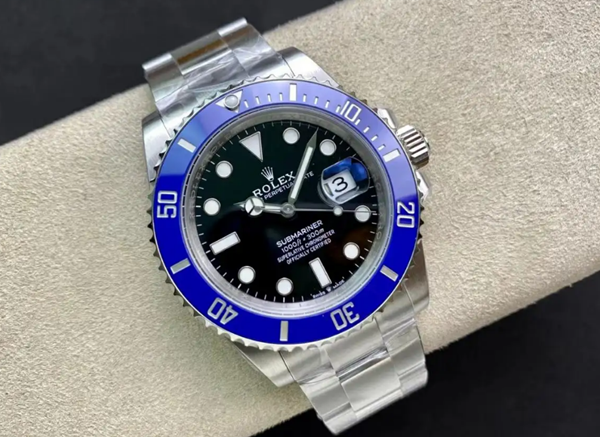 Rolex Submariner Date 126619LB-0003
On this model, small window convex lens magnifying glass function. With blue cerachrom bezel, black dials and extra large night light clock markers. Black dial, you can clearly read the time in water. The ChromAlight night light display of the dial is to allow the diver to instantly read, avoid deep-lived risk. Specially designed bezel can make the wearer even wearing the glove or in the water, it is also easy to operate.
New Generation Movement
The new Rolex Submariner Date has a new generation movement cal.3235. This automatic self-winding mechanical movement fully reflects the innovative technologies of Rolex, which has been further improved in terms of precise and reliable, power reserves, seismic anti-magnetic and convenience. This movement is equipped with a new patent Chronergy escapement system for Rolex, which is efficient and reliable. The escapement system is made of nickel phosphorus and is not subject to magnetic field.
Our top-level Rolex Submariner Date uses a Swiss replica cloned Rolex cal.3235 movement based on the original super cloned cal.3135, it has been improved. It uses blue wire, enhances the function of appearance and movement, it can be very accurate, completely free of failure rate, cost-effective!
About The Rolex Green Submarienr, The Secret You Don't Know
The Rolex Green Submariner replica 116610LV, also known as the "Green Submariner", was the first launched in 2010. It is characterized by a "green gold" coating on the surface of the watch using PVD technology, while its green gold material the ratio is a secret.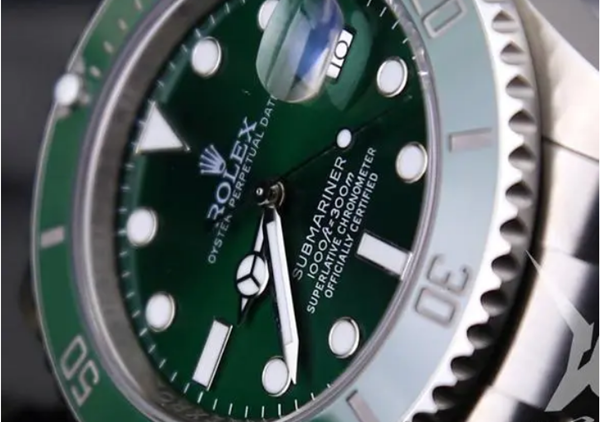 Rolex Submariner Date 116610LV
The bold and outstanding design is a great innovation for Rolex's traditional brand. Since the Rolex Submariner green model launch, it has undoutedly become one of the most popular products of Rolex, attracking many fans of Rolex Submariner. And since only one batch for this watch was released, its next batch was replaced by a black Rolex Submariner with exactly the same function and appearance, making this watch highly collectible. Therefore, when a green Rolex Submariner appears in front of you, you must act decisively and take it down immediately!