Waterproof is a concerned topical for the watch-lovers, however we find that there is some misunderstanding about the waterproof of a watch. Actually, No watch is fully waterproof. The grade of waterproof is different, so the watch can be used for different occasions. You might meet a watch engraved 3ATM, but why does the water can flow into the watch? For these doubts or problems, here we would like to explain for you.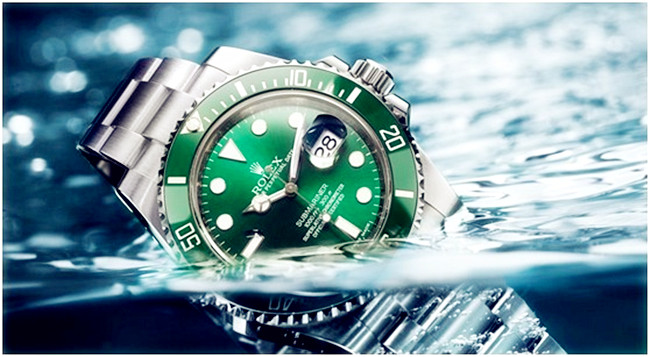 Water resistant
Water resistant means, it doesn't matter when you touch water occasionally in daily life. For example, when you are watering the flowers or washing hands, the watch was splashed by some spray, don't be nervous, take if off and wipe the water away.
Waterproof
There is 4 grade of waterproof.
Waterproof 30m(3ATM): Refer to daily waterproof. It can be used for daily washing hands or splashed by rainwater, there is no hydraulic pressure on the watch.
Waterproof 50m(5ATM): Refer to enhanced daily waterproof. It can be used in washing hands, washing face, washing vegetables and so on housework, which means it can be touched by small amount cold water, but can not be soaked in the water for long time.
(Our high end model and super model are waterproof 50m.)
Waterproof 100m(10ATM): It can be used in swimming in shallow water.
Waterproof 200m (20ATM): it can be used in diving in deep water area.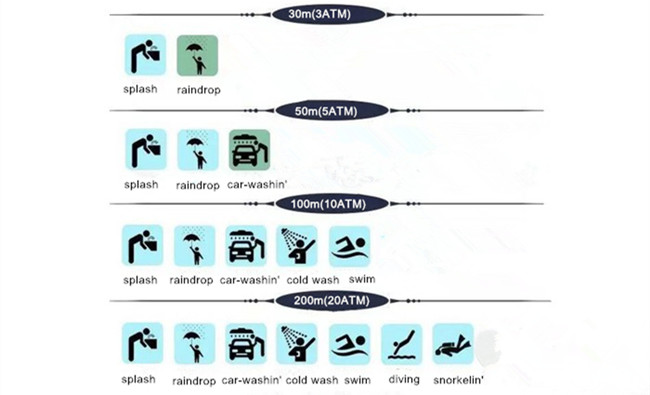 Not matter how many meters of waterproof, that doesn't mean the watch can reach the depth, resist how many atmospheric pressure(ATM) instead. The test of waterproof performance is done under static conditions, that is, the highest compressive value obtained by pressurizing the watch within a few seconds. Therefore, even if the watch is marked with water resistant or waterproof 30m or 50m, you can not wear the watch while swimming. The theoretical and practical experiences tell us that a watch that can actually be placed under water at least 100m can be called a real swimming watch.
The comparison of Waterproof
Generally speaking, the round watch has the best performance in waterproof thanks to its waterproof rubber ring. According to the performance of waterproof, the appearance of a watch can be ranked like this: Round watch > Ellipse watch > Square watch or in-regular shaped watch. Since the crown, case back and the edge of glass are main places of water inflow, the design of watch is a elements. For example, the watch which has push-down locked crown and thick body has good waterproof performance; the ultra-thin watch has not so good waterproof due to the space inside is limited.
Must-know info
1 No watch can be fully waterproof.
2 You should wipe the water away when the watch touched water.
3 Do not wear watch in shower room and sauna room, because the temperature will effect the waterproof rubber ring and waterproof performance.
4 The waterproof performance will not be stable forever, please take it to a watch-shop for testing and servicing when problem occurs.